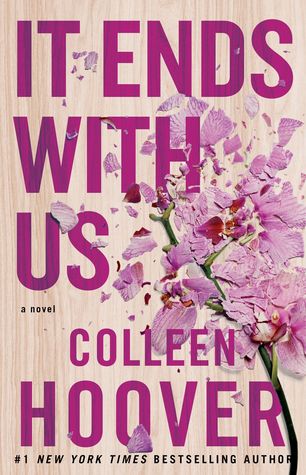 Lily hasn't always had it easy, but that's never stopped her from working hard for the life she wants. She's come a long way from the small town in Maine where she grew up. She graduated from college, moved to Boston, and started her own business. So when she feels a spark with a gorgeous neurosurgeon named Ryle Kincaid everything in Lily's life suddenly seems almost too good to be true.

Ryle is assertive, stubborn, and maybe even a little arrogant. He's also sensitive, brilliant and has a total soft spot for Lily; and the way he looks in scrubs certainly doesn't hurt. Lily can't get him out of her head, but Ryle's complete aversion to relationships is disturbing. Even as Lily finds herself becoming the exception to his no dating rule, she can't help but wonder what made him that way in the first place.

As questions about her new relationship overwhelm her, so do thoughts of Atlas Corrigan, her first love and a link to the past she left behind. He was her kindred spirit, her protector. When Atlas suddenly reappears everything Lily has built with Ryle is threatened.
With this bold and deeply personal novel Colleen Hoover delivers a heart-wrenching story that breaks exciting new ground for her as a writer. Combining a captivating romance with a cast of all too human characters, "It Ends with Us" is an unforgettable tale of love that comes at the ultimate price.
All humans make mistakes. What determines a person's character aren't the mistakes we make. It's how we take those mistakes and turn them into lessons rather than excuses.
This is probably going to be one of the hardest book reviews I'll ever have to write. I really did like this book, but it hurt my heart and messed with my head. It Ends With Us brought back an abundance of memories that I like to keep hidden far far away locked in a box behind a wall that no one gets to see or hear about. It's actually taken me quite a while to get up the courage to even write this review because I knew it would dredge up memories that I NEVER want to relive, and as I try not to cry writing this… I will do my best to do this review justice.
It Ends With Us is poignant and influential. This novel presents on intense subjects, one in particular being abuse. I will say this is not intended for the faint of heart. Yes, there is romance and you'll still get all the feels that you normally would get within a CoHo novel. However, this book is hard to read. I will not say that I loved this book, and I will not say that I disliked this book. I will say that I am proud of the characters in this story. I'm proud of Colleen Hoover and this novel. Although I have mixed emotions about this novel, I believe in its excellence.
Cycles exist because they are excruciating to break. It takes an astronomical amount of pain and courage to disrupt a familiar pattern. Sometimes it seems easier to just keep running in the same familiar circles, rather than facing the fear of jumping and possibly not landing on your feet.
This book reminded me that every decision I made to get out of the situation that I was in was indeed the best thing I could have ever done for myself. As I sit here thinking about how to praise CoHo for this novel, the only thing I can think of is that hopefully one day, someone who is in the worst situation of his/her life will decide that it's OK to take the first step. I know from experience that the first step is indeed the hardest. Do not let your strength and courage waver. Toxicity in relationships is just not worth it. I can't even begin to tell you how many excuses I made for my situation. To this day, certain things may be said and I'll still go to make an excuse for the way I was treated…. But I stop myself. Just like Lily in the book - I remind myself that what happened was not ok. No one deserves that and the actions are inexcusable.
CoHo drives that exact point home in this novel. These characters are the definition of strength and courage. I do have to say… I don't hate Ryle. In the end you'll understand why I say that. Not only does this book touch upon abuse, but I also believe it touches on PTSD. PTSD comes in all shapes and sizes, and needs to be handled efficiently. I feel like there's a stigma around PTSD that it really only has to do with soldiers (Bless their hearts), but it doesn't. These are real life issues, and its amazing that they're finally being delved upon. Make. People. Listen. CoHo is doing just that. Advocacy is such a great thing and I hope this novel really opens up the eyes of those who are shall we say blissfully ignorant to two of biggest mental health conditions in this world today.
If you've never been through a situation of abuse, I recommend you read this novel. You'll definitely get a new perspective on what it's like to be a survivor. Some people say that physical abuse is worse than mental abuse. I disagree. They're exactly the same. The person will live with it for the rest of their lives. They will battle within themselves continuously. Just think about that before you judge someone. I hope this book makes you understand what it's like to "just make excuses" and hopefully you'll see the abundant amount of COURAGE and STRENGTH that is needed by that individual to get out.
Thank you CoHo, for the reminder of why I started my life over, and addressing that these subjects shouldn't be approached lightly or disregarded . As I near my One year anniversary of what I like to call freedom, or the re-birth of Bethany… which happens to be the day before the release of this book (YAY! for Coincidence). To all you survivors out there, Stay strong. You made the best choice of your life. To those thinking about leaving… make a plan because your well-being is most important. Don't be ashamed of what people will think or say. There are so many domestic violence advocacies out there, please use them! It's a long road, but it's worth it.
I write because I need to.
I review because I want to.
I pay taxes because I have to.
If you want to follow me, my username is @colleenhoover pretty much everywhere except my email, which is colleenhooverbooks@gmail.com
Founder of
www.thebookwormbox.com
Win 1 of 3 prize bundles
one signed copy of IT ENDS WITH US and a limited Everything's Better in Boston magnet
(trust us, you'll get it after you read the book)!
Contest is open until August 26
th