Check out the PRE-RELEASE GIVEAWAY going on now HERE!
A Night To Forget -
Jessica Wood
What happens in Cancun doesn't always stay in Cancun.
When Emma Anderson and her friends decided to spend their senior year Spring Break in Cancun, she expected some crazy memories to end their final college days. What Emma didn't expect was to meet Brandon Fisher. Tall and sexy, with dimples that would make any girl swoon, Brandon Fisher was literally the man of Emma's dreams. She couldn't quite believe that this stranger, who seduced her every night in her dreams, actually existed.
After serendipitously bumping into each other, Emma could not resist Brandon's pull and spent an unforgettable night with him. Passing it off as a spring break fling, Emma never expected to see Brandon again. But when she started her first day at her new job a few months later, there he was. The only problem was, Brandon didn't even remember her.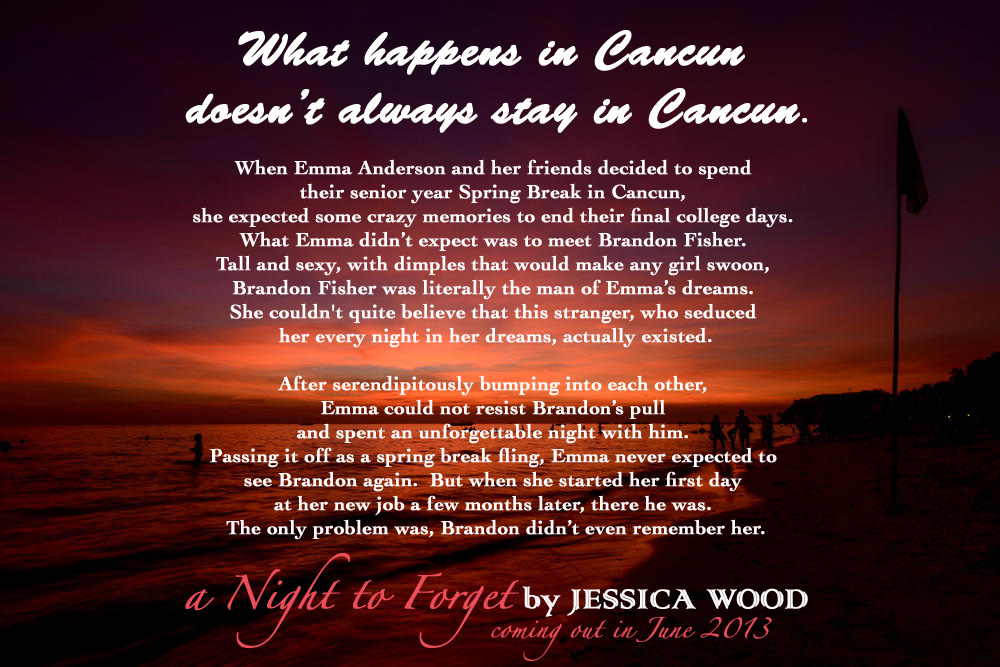 ABOUT THE AUTHOR:
Jessica Wood writes new adult contemporary romance and chick-lit.
While she has lived in countless cities throughout the U.S., her heart belongs to San Francisco. To her, there's something seductively romantic about the Golden Gate Bridge, the steep rolling hills of the city streets, the cable cars, and the Victorian-style architecture.
She loves a strong, masculine man with a witty personality. While she is headstrong and extremely independent, she can't resist a man who takes control of the relationship, both outside and inside of the bedroom.
She loves to travel internationally, and tries to plan a yearly trip abroad. She also loves to cook and bake, and—to the benefit of her friends—she loves to share. She also enjoys ceramics and being creative with her hands. She has a weakness for good (maybe bad) TV shows; she's up-to-date on over 25 current shows, and no, that wasn't a joke.
And it goes without saying, she loves books—they're like old and dear friends who have always been there to make her laugh and make her cry.
The one thing she wished she had more of is time.
Check out Jessica Wood's blog
for additional teasers and more
HERE!
Visit Jessica's facebook
HERE!