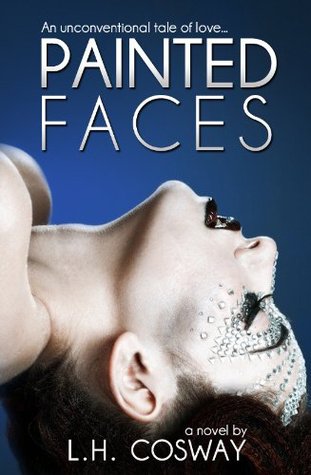 Come forth with an open mind, for an unconventional tale of love..

Dublin native Freda Wilson considers herself to be an acquired taste. She has a habit of making offensive jokes and speaking her mind too often. She doesn't have the best track record with first impressions, which is why she gets a surprise when her new neighbour Nicholas takes a shine to her.

Nicholas is darkly handsome, funny and magnetic, and Freda feels like her black and white existence is plunged into a rainbow of colour when she's around him. When he walks into a room he lights it up, with his quick wit and charisma. He is a travelling cabaret performer, but Freda doesn't know exactly what that entails until the curtains pull back on his opening night.

She is gob-smacked and entirely intrigued to see him take to the stage in drag. Later on, Nicholas asks her if she would like to become his show assistant. Excited by the idea, she jumps at the chance. Soon she finds herself immersed in a world of wigs, make-up and high heels, surrounded by pretty men and the temptation of falling for her incredibly beautiful employer.

In this story of passion and sexual discovery, Nicholas and Freda will contend with jealousy, emotional highs and lows, and the kind of love that only comes around once in a lifetime.

**Not suitable for younger readers. Contains some strong language and scenes of a sexual nature.**
Sometimes when I read a book it makes me high and giddy and by the time I'm finished I'm so intoxicated that I rate it five stars right away. I give myself a day or two to write my review. When I sit down to write my review I realize that maybe I jumped the gun on the five. Maybe there should only actually be three or four. Painted Faces got me high. I was so high that I couldn't stop myself from saying "one more" until I only had three hours of sleep before work. I woke up high. I had to sneak in chapters during every break to get a fix, then rushed home to chase my high again. I have total and complete book euphoria still, but this book isn't like all the others that I tend to overrate. I know long after the high fades I will love this book. I will come back to it, search out my favorite quotes and parts, and read it all over again.

"Every memory makes me who I am right now, in this moment. Good or bad, all experiences shape you."

This book was a bit of a crazy whirlwind journey for me. I was forced to ask myself questions I'd never thought about before. If I was in this situation, how would I react? If I was Freda would I feel the way she did? Would I be able to see the person behind the make-up, wigs, and dresses? Would I be able to like, or love, both as one? By the end of the book the answers were very clear to me.

"I like the him that's underneath the clothes and the painted face."

I was pretty much immediately drawn into Fred. I loved her dark humor, her subtle strength, and her vulnerability. She comes off as slightly insecure, but she's not a pushover. I loved that even at her most vulnerable and pained she didn't crumble. And she's not afraid to hold her own. I didn't like Freda's self doubt, but most people doubt themselves so it didn't bother me much. Fred is incredibly open minded and I find that very attractive in a character. Fred is a character I think a lot of young women will be able to relate to in one way or another. I definitely saw a lot of myself in her.

"So, this is me darling, a complete and total contradiction. A fucking mess."

I don't even know where to begin with Nicholas. I wasn't sure what to expect with him. Needless to say I got way more than I could have ever expected. Nicholas is one of those magnetic characters that all authors wish they could write into existence. He's something of an enigma, but not so much so that he becomes impossible to connect with. He's funny and happy, yet there's this quiet sadness in him that seeps out sometimes. He's just enough mystery, and one hundred percent seduction. I could not, and still cannot, get my mind off of him.

The secondary characters were present just enough. They didn't overpower the story like secondary characters sometimes do. None of them begged for their own story[puh-lease], but they were all multidimensional. There's a bitch of another woman that was obviously easy to hate, and a couple of douchey guys that I didn't care for, but most everyone else was pretty likeable. I did kind of hate Nora, Fred's roommate/bff, but I still appreciated her relationship with Fred. They weren't soul baring BFFs. They kept a few secrets, got jealous, and even bitched each other out. But they were definitely more realistic for it.

What Nicholas and Freda have in common is their ability to be two things at once. Freda a mix of insecurity and strength. Nicholas is feminine and masculine. These are characteristics that don't usually go together, but both blend these attributes so seamlessly that they come together in a perfect way. The chemistry between them was intense, almost palpable, absolutely explosive. I found myself a little short of breath quite a few times. Everything was so sexy in such a simple way and it made it that much sexier. I'm not a big fan of sex in books, especially with all the oversexed stories lately, but this made me want to scream "this is how it's done!". Nothing was overdone, and it all felt completely right.

The writing is beautiful, raw, and full of emotion. It flows so well that I lost track of time more than once. I found myself in the same position as Fred for most of the book, marveling over this beautiful man that just can not be defined. I was entirely invested in their unconventional love story. Painted Faces took me to a gender bending place I didn't know I could reach. I consider myself to be open minded, but some things I would never expect to be my cup of tea, but I felt a quite awakened by this book. One thing's for sure, I never expected to fall in love with a drag queen. But I did.